Visa
No particular difficulties exist for travellers entering China. Chinese immigration officers are scrupulous and highly bureaucratic, but not overly officious. The main requirements are a passport that's valid for travel for six months after the expiry date of your visa, and a visa. Travellers arriving in China will receive a health declaration form and an arrivals form to complete.

Customs
Chinese customs generally pay tourists little attention. 'Green channels' and 'red channels' at the airport are clearly marked. You are not allowed to import or export illegal drugs, or animals and plants (including seeds). Pirated DVDs and CDs are illegal exports from China – if found they will be confiscated. You can take Chinese medicine up to a value of ¥300 when you depart China.
Duty free, you're allowed to import:
• 400 cigarettes (or the equivalent in tobacco products)
• 1.5L of alcohol
• 50g of gold or silver.
Also note:
• Importation of fresh fruit and cold cuts is prohibited.
• There are no restrictions on foreign currency, but you should declare any cash exceeding US$5000 or its equivalent in another currency.
Objects considered antiques require a certificate and a red seal to clear customs
Passports
You must have a passport ( hùzhào) on you at all times; it is the most basic travel document and all hotels will insist on seeing it for check-in. It is now mandatory to present your passport when buying train tickets; you will also need it for using internet cafes that accept foreigners.
The Chinese government requires that your passport be valid for at least six months after the expiry date of your visa. You'll need at least one entire blank page in your passport for the visa.
Take an ID card with your photo in case you lose your passport and make photocopies of your passport: your embassy may need these before issuing a new one. You must report the loss to the local Public Security Bureau (PSB), who will issue you with a 'Statement of Loss of Passport'.
Long-stay visitors should register their passport with their nation's embassy.
Visas
Apart from visa-free visits to Hong Kong and Macau and useful 72-hour visa-free transit stays (for visitors from 51 nations) to Běijīng, you will need a visa to visit China. Citizens from Japan, Singapore, Brunei, San Marino, Mauritius, the Seychelles and the Bahamas do not require a visa to visit China.
Your passport must be valid for at least six months after the expiry date of your visa (nine months for a double-entry visa) and you'll need at least one entire blank page in your passport for the visa.
At the time of writing, the visa application process had become more rigorous and applicants were required to provide the following:
a copy of flight confirmation showing onward/return travel
for double-entry visas, flight confirmation showing all dates of entry and exit
if staying at a hotel in China, confirmation from the hotel (this can be cancelled later if you stay elsewhere and often just showing the first night is enough)
if staying with friends or relatives, a copy of the information page of their passport, a copy of their China visa and a letter of invitation from them.
At the time of writing, prices for a standard single-entry 30-day visa were as follows:
• UK£85 for UK citizens
• US$140 for US citizens
• US$40 for citizens of other nations.
Double-entry visas:
UK£85 for UK citizens
US$140 for US citizens
US$60 for all other nationals.
A standard, 30-day single-entry visa can be issued in four to five working days. In many countries, the visa service has been outsourced from the Chinese embassy to a compulsory Chinese Visa Application Service Centre (www.visaforchina.org), which levies an extra administration fee. In the case of the UK, a single-entry visa costs UK£85, but the standard administration charge levied by the centre is an additional UK£66 (three-day express UK£78, postal service UK£90). In some countries, such as the UK, France, the US and Canada, there is more than one service centre nationwide. Visa Application Service Centres are open Monday to Friday.
A standard 30-day visa is activated on the date you enter China, and must be used within three months of the date of issue. Travel visas of 60 days and 90 days are harder to get but possible just by applying. To stay longer, you can extend your visa in China.
Visa applications require a completed application form (available from the embassy, visa application service centre or downloaded from its website) and at least one photo (normally 51mm x 51mm). You generally pay for your visa when you collect it. A visa mailed to you will take up to three weeks. In the US and Canada, mailed visa applications have to go via a visa agent, at extra cost. In the US, many people use the China Visa Service Center, which offers prompt service. The procedure takes around 10 to 14 days.
Letter of Invitation
The secretariat will send official invitation letters upon request. Such an invitation is intended to help potential attendees raise funds or obtain visas. It is not a commitment on the part of the organizers to provide any financial support.
If you need an individual invitation, please feel free to contact us.
Statments
On the principal of participants' safety 1st, the organizer reserves the right to change the conference date and venue against force majeure. The participants are obliged to comply and cooperate with the organizer's decision.
Key Dates
Abstract Submission

July 30, 2020

Full Submission

Aug. 30, 2020

Author notification

before

Sept. 30, 2020


Final version

before Oct. 25, 2020

Registration

before Oct. 25, 2020

Main conference

Feb 19-21, 2021
Venue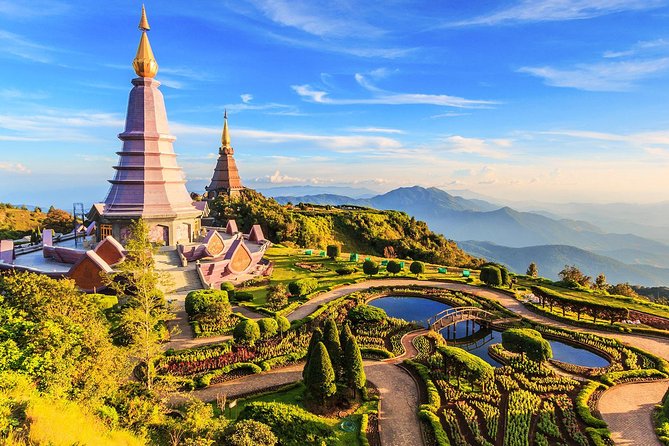 Chiang Mai, Thailand